A Nigerian church has reportedly refused to hold a funeral service for one of their late members. The deceased's offense? He has stopped attending service for three years and was not faithful in tithing throughout the period he stopped worshipping with them.
A Twitter user, Kelvin Odanz shared the story in a thread of tweets on the microblogging site but did not disclose the name of the church.
The story has since generated a series of reactions from netizens who claimed the practice is common in a particular orthodox church.
Kelvin said the deceased is the father of one of his colleagues.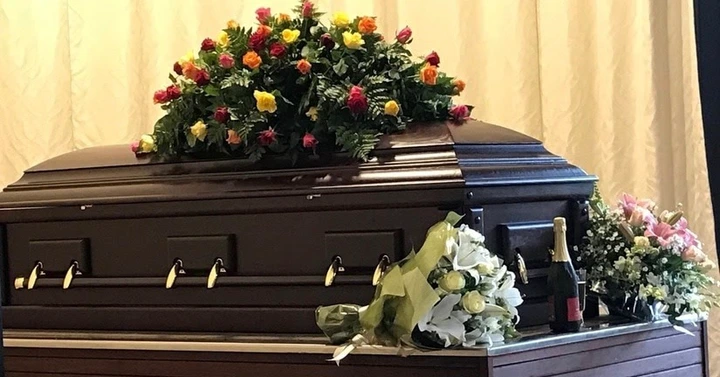 He noted that the church insisted that before burying the deceased, his family must clear all his tithe arrears the man didn't pay for three years.
Kelvin tweeted:
"A COLLEAGUE'S FATHER DIED AND THEIR CHURCH (NAME WITHHELD) IS REFUSING TO OFFICIATE THE BURIAL. THEY CLAIM HE STOPPED ATTENDING THE CHURCH AND PAYING TITHE 3 YEARS AGO. AND IF THE CHURCH MUST BURY HIM, THE FAMILY HAS TO PAY ALL THE TITHE HE DIDN'T PAY IN THE LAST 3 YEARS.
"I AM UTTERLY ENRAGED AND DISGUSTED AT THE HYPOCRISY AND GREED THAT UNDERLIES RELIGIOUS PRACTICES IN THIS COUNTRY. AT THE END OF THE DAY, IT IS ALL ABOUT
MONEY EVEN FOR THE MOST PIOUS OF MEN OF GOD. FUCKING GREEDY EXPLOITATIVE IDIOTS, CASHING OUT ON THE ROT IN THIS COUNTRY."
HE ADDED:
"WHEN THE PASTOR NEEDS HELP, WANTS TO BUILD A CHURCH OR BUY A CAR, THE ENTIRE CHURCH CONTRIBUTES FOR SUCH PROJECTS. BUT WHEN YOU GET SICK AND ARE AT THE VERGE OF DYING, THE CHURCH MERELY OFFERS YOU PROJECT. AND WHEN YOU DIE, THEY LOOK FOR WAYS TO PROFIT FROM YOUR DEATH. IDIOTS."
CORROBORATING KELVIN'S STORY, OTHER SOCIAL MEDIA USERS HAVE CAMPED IN THE COMMENT SECTION OF HIS THREAD OF TWEETS TO SHARE SIMILAR EXPERIENCES.
@STYLECLOSET234 WROTE:
THEY DID THAT TO MY MUM TOO…. SO WE DID AN OPEN AIR SERVICE INSTEAD FOR THE BURIAL. CHURCHES HAVE TO DO BETTER….
@BIMPEROYALE:
LOL. MY DAD'S CHURCH WHERE HE BIRTHED AND DEDICATED ALL HIS SEVEN KIDS REFUSED TO COME BURY HIM COS THEY HADN'T SEEN HIM MONTHS PRIOR TO HIS DEATH PLUS HE DIED IN DECEMBER AND THEY SAID THEY DIDN'T WANT BAD NEWS TO DISTURB THEIR DECEMBER PROGRAMMES
@4EYEDLIWA_:
WHEN MY GREAT-UNCLE WAS TO BE BURIED, THEY FOUND OUT HE WAS A RT HON. JUSTICE. THE CHURCH ASKED THE FAMILY TO BUY A BUS, A VIDEO CAMERA, AND COMPLETE A BLOCK IN THE CHURCH'S QUARTERS. THE CHURCH MADE THEM PLEDGE WHEN THEY WERE AT THE ALTER WITHOUT PRIOR NOTICE.
@MZ_TEMOL:
IS IT AN ANGLICAN CHURCH?… IF YES, I WON'T BE SURPRISED.. MY MUM HAS STARTED PAYING SOME YEARLY DUES IN ARREARS FOR MY GRANDFATHER SO THEY CAN BURY HIM WHEN HE EVENTUALLY DIES!!… SIGHS
@ADAMSAYENI:
I CAN RELATE & STRONGLY BELIEVE THIS STORY. I ONCE WORKED IN A PLACE WHERE ONE OF THE SECURITY MEN BEGGED ME FOR MONEY TO USE TO HELP PAY HIS CHURCH DUES OR ELSE THEY WILL NOT CHRISTEN HIS NEWBORN CHILD. I WAS MAD!
@NDIDI_AMAKAA:
WHEN MY MOM DIED THE CHURCH IN THE VILLAGE REFUSED TO BURY HER REASON WAS SHE WAS NOT AN ACTIVE MEMBER THERE IN THE VILLAGE SO THEY ASKED US TO PAY FOR DUES, WHICH WE DID, NOTHING STOPPED US FROM LOOKING FOR A MAN OF GOD TO PRAY OVER THE DEAD AND LAY TO REST.
@JELLOF_OBIANUJU WHO BELIEVES THE DECISION OF THE CHURCH IS RIGHT WROTE:
THE TRUTH IS, SINCE THE MAN STOPPED ATTENDING CHURCH FOR 3YEARS THEN THE CHURCH IS RIGHT NOT TO BURY HIM JARE… THE PLACE HE WAS ATTENDING THOSE YEARS SHOULD BURY HIM BIKO!