Lockdown: South African man Arrested For Smuggling Girlfriend in Car Boot.
A man was arrested at the N12 roadblock on Friday, 17 April, for attempting to smuggle his girlfriend in his car boot out of GP to MP, without a permit.
The lockdown has caused many worries for a lot of people and some are finding some innovative and absurd way to commute.
The man was arrested at a security personnel roadblock and checkpoint for all motorists across that area.
The driver, who did not have a permit, was heading to the eastern Mpumalanga province the tweet said.
Gauteng Community Safety MEC FaithMazibuko said that law enforcement officers stopped the man at a roadblock and asked him to open the boot, whereupon they discovered a woman hiding inside.
Sadly enough, the woman was arrested for "consenting to be smuggled."
South Africa is on day 23 of a five-week national lockdown.
Earlier the  Police arrested Senior slay queen who slapped colleague(Opens in a new browser tab)
Have a look at the tweet below. MEC Faith Mazibuko@FaithMazibukoSA

Law enforcement asked the man to open the boot to search, they found a lady inside.
She was also arrested, she consented to be smuggled.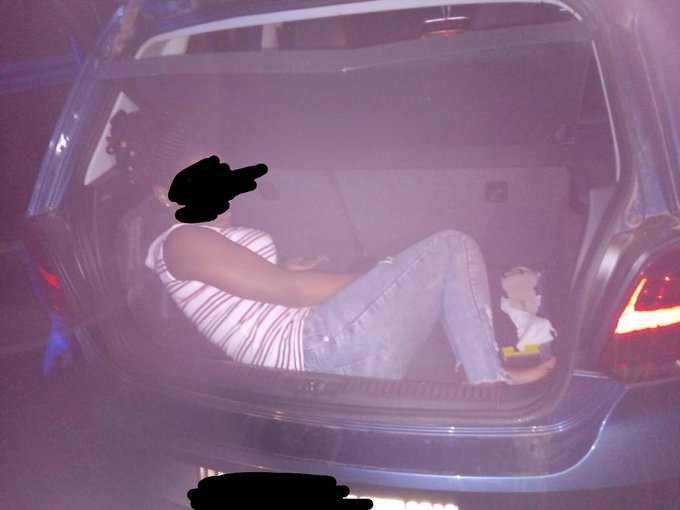 5,604Twitter Ads info and privacy4,751 people are talking about this
Some people believe South Africa cannot afford to embark on a strategy of extended periodic lockdowns and needs to shift to mass testing and contact tracing.